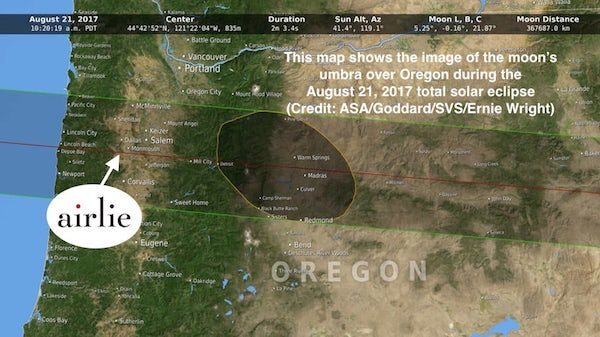 The  Event of a Lifetime!
Sunday, August 20th – Monday, August 21st
Every year the Perseid Meteor Shower lights up the summer night sky. Airlie celebrates this event with a camp out under the stars – Starry Starry Nite. This year, two natural phenomena occur side by side to make this year's camp out an event of a lifetime – the Perseid Meteor Shower and the total Solar Eclipse. As many of you know, we traditionally schedule Starry Starry Nite on a Saturday. This year we scheduled it on Sunday so our campers can experience the eclipse after breakfast on Monday morning.
Airlie is situated on the path of the 2017 total solar eclipse (see the image above). Please reserve your space on-line as soon as possible as accommodations in the Willamette Valley have been booked for over a year. We are providing commemorative T-shirts and viewing glasses so don't forget to provide your t-shirt size for each person in your party.
All The Details
When:
August 20-21, 2017

Dates and Times:
Sunday, August 20, 2017
5:00PM – Campsite set up
6:30PM- Rudy and Deb are back with grilled delights. Please bring cash – our internet coverage is spotty at best.
7:30PM – Mixed Bag is back! The dance floor starts rocking!
Monday, August 21, 2017
9:00AM – Breakfast – eggs, Mary's world famous blackberry pancakes, coffee,  juice.
10:20AM – Total Solar Eclipse
Place:
Airlie Winery
15305 Dunn Forest Rd
Monmouth, OR 97361
What's included?
Oregon is expecting 50,000+ visitors to converge on the Willamette Valley and only 150 will be able to stay in the sweet spot of the eclipse at Airlie Winery! Salem has been sold out for some time now so don't wait to make your reservation! Not only is this a once in a life time experience we will sweeten the pot by adding these items: commemorative T-shirt, viewing glasses, world class entertainment and Mary's world famous blackberry pancake breakfast!
Fees:**
$100 – Couple overnight; camping for tents and campers/RVs; no hookups
$40 – Couple evening or morning only
$20 – Single evening or morning only
Refund Policy: We will refund 50% if you cancel 30 days prior to the event.
** Wine Club Members – 50% off!!!
As always, we will have Airlie wine for sale by the glass, bottle or case!
We are so excited to be part of this once in a lifetime event. We can't wait to share this experience with you!
Mary, Elizabeth and Kim