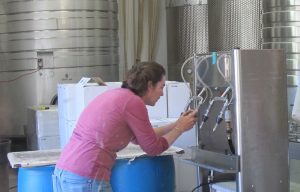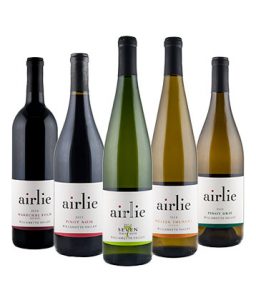 Elizabeth Clark loves wine and it shows from our premier Pinot noir to our white blend, Seven. Regardless of the varietal she strives to create balanced, fresh wines with minimal handling. This approach showcases the best the vineyard and vintage have to offer while maintaining the unique character of each varietal. She makes a broad range of wines so you are sure to find at least one to fall in love with, from our dry Pinot blanc and barrel fermented Chardonnay to our lightly sweet Müller Thurgau and Northwest favorite Maréchal Foch as well as our award winning Pinot noirs.
Elizabeth believes that one of the great advantages to working for a small winery is the control that she is allowed over all phases of wine production. Each varietal is treated independently from picking decisions and yeast choice to fermentation temperatures. For example, wines with sweetness are crafted by stopping the fermentation and leaving naturally occurring sugar from the grapes behind, not by adding sugar to a dry wine. This helps preserve delicate fermentation esters leading to a more aromatic and complex wine. For the reds, Elizabeth chooses small 1.25 ton fermenters for greater control during the process. The smaller fermenters let her build complexity in the final blends by developing desired characteristics in different fermenters and then combining them to craft the exquisite Pinot noirs and sultry Maréchal Foch that you know and love!
She firmly believes that wine should be enjoyed with food as well as gathering with friends to unwind after work. So feel free to enjoy our wines however you wish, from grilling on the deck on a warm summer's day to curling up by the fire on a chilly Oregon evening!