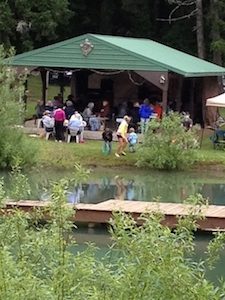 Airlie is a destination winery, not a ticket to punch or a box to check. You've probably heard Mary Olson, the owner say: "We're not a stop along the way. Most folks come to sip and stay." Customers can't resist lingering in the family style atmosphere that Mary has perfected over the years. The relaxed environment, the beautiful scenery and the wine of course keep our customers at the winery long after the tasting is done. Airlie has something for everyone – an intimate tasting room and patio and deck with expansive views of the beautiful Dunn Forest vineyard and the coast range. We also have a picnic area and pavilion next to the tranquil pond. It's not unusual for a family to pack a picnic, open a bottle of wine and let the kids and dogs frolic in the vineyard or catch frogs in the pond. So pack up the car and spend some time with us. You'll be glad you did!
The History of

Airlie



The town of Airlie has a rich background dating back to the early 1800's and the Pony Express. Once a Christmas tree farm, the original owners established and began planting Dunn Forest Vineyard in 1983. They founded Airlie Winery in 1986.
I (Mary Olson) purchased Airlie Winery and the estate vineyard in 1997. Our winemaker Elizabeth Clark joined the Airlie Family in 2005 along with Susan Simons, marketing and sales in 2018. Sebastian, 2003 and Gustavo 2012 round out the Willamette Valley's best vineyard crew.
Nestled in the coastal mountain range on the western edge of the Willamette Valley, the inviting setting, complete with a picnic area and pond, extends any plans for just a brief stop. Located in the Heart of the Willamette Valley, Corvallis, Salem, Albany, Dallas and Monmouth are just a short drive away.
Thirty acres of grapes consisting of nine varietals: Pinot Noir, Pinot Gris, Pinot Blanc, Chardonnay, Riesling, Müller Thurgau, Gewürztraminer, Maréchal Foch, and Muscat Ottonel make up sixty-five percent of the grapes used in making Airlie Wines. BeckenRidge Vineyard, located 20 miles away west of Dallas Oregon, supplies the remaining grapes.